WordPress is a popular Content Management System that powers over 35% of the websites on the internet. All thanks to its easy handling and simple interface WordPress has become the first choice of content creators and professionals in each domain. When competition rises you need to stand out to attract maximum visitors and make positive changes to your website. This is where the need for a good website theme kicks in. No one in 2020 wants to surf boring websites having age-old design and less interactive interfaces. Themes are a crucial part of any WordPress website. Themes give your site an Amazing Visual Experience and when clubbed with Good Quality Content it gives your website an identity. Today's theme needs to look modern, aesthetically pleasing, and professional keeping in mind the users it's intended to serve. This is where Premium themes are helpful. Premium themes bring along a lot of benefits and modern capabilities that are required to entice users.
Why Avoid Free WordPress Themes?
There are many websites on the internet that provide WordPress Themes for free. But installing these free themes will harm your website in the long run and even may compel you to shut your business if things go out of control. Also Read: How can you create a Survey in WordPress? Why So? Free Themes may not be totally free! Always remember there is no such thing as a free lunch. Everything has a price and is driven by an agenda. In the case of Free Themes, you are blinded by the term "Free" following are their downsides:
The majority of the Free Themes on the internet are embedded with malicious code and contain encrypted links to spam websites/malware
Free Themes are basically "unknown" meaning made by unknown developers and probably made with a stolen piece of someone's work
The code quality is extremely poor and may prevent your website from ranking in Google Search. Google may even blacklist your site.
Free themes always lack modern features and customization options when compared to Premium Themes.
Free Themes lack updates and make you run the website on an outdated software version thus inviting attackers and hackers.
What's nice about using a Premium WordPress Theme?
You can increase visitor traffic and boost user engagement by user Premium WordPress Themes. Premium Themes is the best solution to the prevailing problem. Also Read: Hide your WordPress website from Theme Detectors and other online tools like isitwp or what WordPress site is that? Premium Themes come at a nominal cost but are worth the money you intend to pay. There are many benefits of using Premium WordPress and ditching Free Themes.
Better Customer Support – Customer Support is an invalid term when dealing with Free Themes, but in Premium Themes Customer Support is considered Crucial. You get instant support from the makers if you end up breaking the theme or need some assistance.
Modern Features and Customization Options – Premium Themes are called Premium due to the list of features it offers and also due to a great level of customization options. You get tons of options to make your website look unique and one of its kind.
SEO Optimized – Premium Themes are SEO Optimized out of the box, this is because of the coding standards they follow. SEO is important for every website to make its mark in the Google Search Results. SEO practices do change with time, so a theme that is regularly updated has an upper hand over a theme that was updated a year ago.
Responsive Design – The one thing that you will find common in Premium Themes is the level of responsiveness they show. If you have a website that offers a seamless viewing experience on smartphones, tablets or any computer device means it has a Responsive Design. Visitors love responsive websites and tend to stay longer on those sites.
Unique Design – One of the best things about Premium WordPress Themes is that they are known to offer Unique Design. Some themes do come with a Built-In Page Builder that can be used to create Custom Webpages with a Drag and Drop feature. There are many websites out there that run on the same theme but are nicely customized to look unique and original.
Final Thoughts
Premium Themes are the future and should be used to reward someone's hard work and intelligence. They are bang for your buck and is the key to a successful website. We recommend Oshine WordPress Theme, Oshine is a very Popular Premium WordPress Theme loved by over 29000+ Customers. It is one of the Best Selling WordPress Themes and is Fully Responsive. Oshine is a Creative WordPress Theme that can be used for Portfolio, Photography, Architecture, Business, Agency, Freelancer. It offers 50+ Demos that can be used directly depending upon your niche.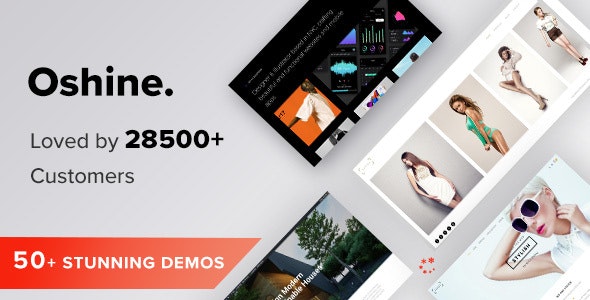 Oshine comes clubbed with a very powerful Tatsu Page Builder that can be used to create beautiful looking single page website best for creating landing pages. Some of the Striking Features of Oshine Theme are:
Regular Updates and Bug Fixes
24/7 Top-Notch Customer Support
GDPR Compliant Web Design
Supports Multilingual Websites
Rich Coding Standards
Powerful Visual Page Builder Included
Best for One Page website Creation
Typehub and Colorhub Support
Superior Performance
Altogether Oshine is the Best WordPress that every modern website should have.